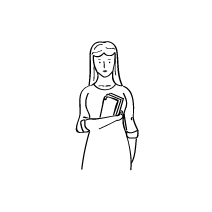 Victim Support Officer
The victim support officer (técnico de apoio à vítima®) is an APAV collaborator who accompanies and provides support to victims of crime.
The victim support officer's mission is to help the victim overcome the negative experience that they went through or are currently going through.
The victim support officer has:
Academic qualifications in key policy areas to support and meet the needs of victims, such as psychology, law, social service, among others.

Specialized training to understand, accompany, and support victims of crime.

Personal characteristics that allow them to listen to the victim, to understand them, to provide emotional support, to accept what the victim is willing and not willing to tell, and to respect their decisions, even if they do not agree with them.
The victim support officer can also accompany the victim to court, to the police, or to medico-legal examinations.
Remember:
A Victim Support Officer can help you. If you want to get in contact with a victim support officer, you can contact APAV. Click here to find out where we are and how you can contact us. If you prefer, you can send us a quick message. Click here to send a message.