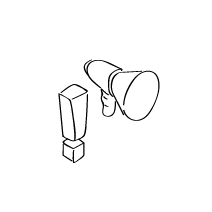 If you are or were the victim of a crime, it is very important that you report the crime to the authorities. If you do, it is the more likely that the person who committed the crime will be "caught", held accountable and prevented from doing the same again, either to you or others.

The report is also very important to be able to exercise certain rights. Click here to learn more about the rights of crime victims.

You have the right to report all crimes of which you are or were a victim.

Reporting is your own decision, however, there are certain people who are required to report any and all crimes they become aware of:
The Police are required to report all crimes of which they become aware.
Civil servants (e.g. teachers) and other government professionals who, as a result of their duties, learn that a crime was committed, are also required to report.
Anyone who is aware of situations that may endanger the life, health, or freedom of a child or young person under the age of 18 is also required to report.
We know that reporting a crime is a very difficult decision to make.
If you want to talk to someone before you decide what to do, APAV's victim support officers are available to speak with you, inform you, advise you and offer you the support you need.
Whatever you decide to do, you always have the right to receive support.

Even if you don't report the crime, it is very important to talk with someone and seek help. Click here to find out where we are and how you can contact us.

If prefer, you can send us a quick message. Click here to send a message.


There are various reasons why you might not want to report a crime:
"It was not important."
Even a minor crime can be disturbing and upsetting. The authorities know this and will take your complaint seriously.
"It's embarrassing."
You may feel embarrassed or ashamed to report the crime. This often happens in cases of sexual assault or domestic violence. The authorities should deal with these situations sensitively and without judgement. Whatever your gender, sexual orientation, religion, nationality or race, being a victim of crime can be traumatic.

"The authorities don't care."
The authorities deal with many cases and may not deal with yours as quickly as you expected, but they will pay due attention to it. They may not always be able to identify or get the person responsible for the crime, but their duty is always to try.

"It's over and it hasn't affected me."
If the crime hasn't had much affect on you, that is good. Some people are able to cope well with these difficult situations and can act almost as if nothing happened, even when they suffered a serious crime. However, if you don't report the crime, the authorities will not be able to try to catch the person who committed the crime, and they might do it again. You should consider that, the next victim might not be as able as you are to overcome the effects of the crime.

"I'm worried about what will happen next."
It is normal for you to feel apprehensive about having to go to the police to give your statement and to court to testify, but don't forget that you can receive help while going through this process.
Whatever you decide to do, you always have the right to be supported. Even if you don't report the crime you have suffered, it is very important that you talk to someone about what happened to you and how you feel and that you get all the help you need.